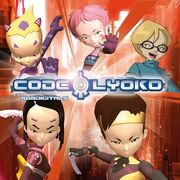 The Subdigitals are a techno band that is closely linked with Code Lyoko. The band has released a music CD called "Code Lyoko Featuring the Subdigitals". The CD contains 12 tracks and has been released in both English and French.
The lead guitar player is Jérôme Rebotier; the bass guitar player is David Masson; the keyboard players are Payet Pigeon, David Hadjadj, and Jérôme Reboiter. The Drummer is Chris Morales. The lead singer is Sebastian Davin.
The Subdigitals is based off of the fictional band of the show Code Lyoko. The drummer is Chris Moralés, the nephew of Jim Moralés. The other two members are Nico and Ben, and their stage manager is Sophie. In Season 2, they were called the Subsonics stated by Ulrich in episode Saint Valentine's Day. They changed their name to the Subdigitals in Season 4. The band held an audition to see who would open for them in a concert, and Aelita got the part.
English CD
Edit
The tracks of the English CD are as follows:
School is Out
Time to Cry
Secret Life
Surfing in Cyberspace
Mother Earth
Get Away
World With my Eyes
In Time to Cry, Debra Reynolds is one of the singers and in A World Without Danger, Noam Kaniel is the singer. Break Away was written by Herman Martin and Serge Tavitian, and A World Without Danger is written by Franck Keller and Ygal Amar.
French CD
Edit
The tracks for the French CD are as follows:
Technoide
Ensemble
Sauver Le Monde
Rodeo
La Tribu
S'en Aller
Bienvenue