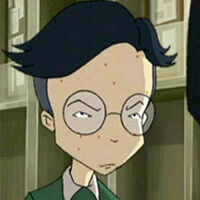 Herb Pichon is an eighth grader at Kadic. He is the second-in-command of Sissi's Gang, and sometimes even the boss in times of emergency when Sissi proves to incompetent, as he is obviously the most intelligent in their group. Herb is also in love with Sissi, although he can't tell her because she has crushes on various people including Ulrich, Theo, and possibly Odd. Due to this and many other factors in his life, such as unpopularity (it is even shown Jim doesn't like him) and being constantly outwitted by his academic rival, Jeremie, Herb is a very sour person, competetive and sometimes violent, therefore extremely easy to anger. Herb also has claustrophobia, as seen in Claustrophobia. He is best friends with Nicholas, despite his lack of intelligence. He has a strong dislike for Tamiya for unknown reasons.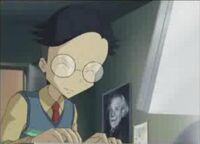 Herb can often be seen patiently waiting for Sissi to consult him on something, although she usually doesn't. He spends most of his spare time trying to think of ways to impress Sissi, which usually fail, but his determination rarely falters, which will probably lead either to his complete success, or his downfall. Ironically, it is also hinted at that he has a slight crush on Yumi, who could be considered Sissi's greatest enemy. This is somewhat evident in The Robots, where she is able to persuade him to assist the Lyoko Warriors. Mrs. Hertz seems to think of him as one of her best students, along with Jeremie. Herb also seems to have more knowledge of slang words then Jeremie.
Herb also has a fear for Zombie's in Attack of the Zombies as it is seen but is transformed into one anyway he is transformed since he droped his weapon and the zombiefied Wiliam and other students fall him and feast on his flesh.
Herb's face is covered in pimples, and he often complains about it, but on some occasions, his face is drawn without the acne. He is also very easy to scare, as seen with Sissi, Jim, and Nicholas as well.
In The Robots, he built a hummingbird robot to help Team Lyoko take down a robot XANA had created. Unfortunately, he seemed to have lost his memory after a time reversion occured. He also designed the Iron Sissi for the Annual Robot Competition, a tribute to Sissi. He lost because he broke the contest rules by concealing a weapon inside the robot.
Herb's romantic afflitiation has also been questioned, at least amonst fanfiction writers. While Herb usually romantically pursues Sissi, he has also been shown to have feelings for Aelita. The collect spelling of Herb's name is also a controversy. The French spelling of the name is Herve (with an accent on the e), but the English spelling is usually accepted as Herb (Herb's section on Wikipedia is an exception). The policy on this site is, however, to use the English version.
In Lyoko Minus One, he ran for Class Representative on Sissi's request against Jeremie and Odd. It is strongly suggested in the episode he actually does not want to run for the post, as his ideas are mostly stupid, such as putting pretty flowers in each classroom. He failed horribly, as Odd won the position.
In Echoes, he and Nicholas are finally rejected by Sissi; she referred to them as "dorks".
It is possible Herb is related to L. Pichon, a jockey who won the 1928 Queen's Plate horse race.
Ad blocker interference detected!
Wikia is a free-to-use site that makes money from advertising. We have a modified experience for viewers using ad blockers

Wikia is not accessible if you've made further modifications. Remove the custom ad blocker rule(s) and the page will load as expected.